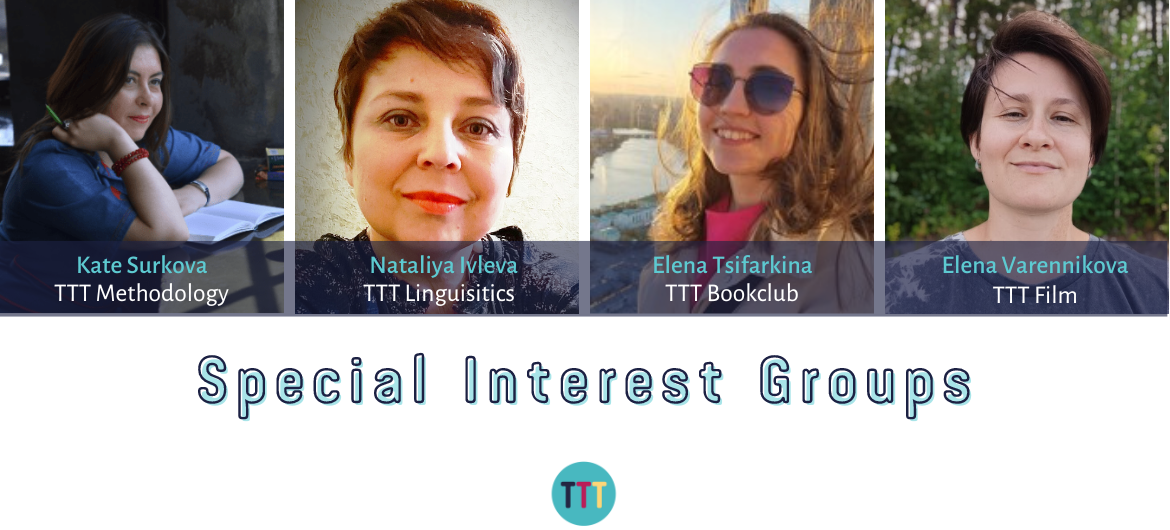 Внимание, мы остановили продажи клубов!
---
Для преподавателей всех иностранных языков, которые работают со взрослыми учениками или планируют начать, мы разработали курс «Я преподаю взрослым».
Крутой бонус после прохождения курса — бесплатные занятия английским бессрочно и бесплатный доступ к клубам!
---
At the moment we have four SIGs (Special Interest Groups) in TTT
The SIGs are to help you make your professional development even more focused and versatile
The Methodology club aims at helping everyone interested to finally read all those methodology books you keep collecting on your shelf and to try out some of the described activities and principles in practice.
We read individually, but we discuss and sometimes try the activities from the book together so that we can apply these activities to real lessons without any hesitation.

We're currently reading 'How to Teach Speaking' by Scott Thornbury.
We usually meet twice a month
18 October (Wed) — 3 pm
29 October (Sun) — 7 pm
12 November (Sun) — 7 pm
29 November (Wed) — 3 pm
10 December (Sun) — 7 pm
20 December (Wed) — 3 pm

The Bookclub is for avid readers who know how to make the most of reading deadlines and appreciate a chance to timely discuss their thoughts and impressions with colleagues.
We usually meet once every month on Sundays (GMT+3)

22 October (Sun) — 7 pm — 'Pachinko' by Min Jin Lee
The Film club is for people who truly enjoy watching films, talking about films, as well as for those who haven't discovered this movie passion within them yet.
We usually meet twice a month on Fridays (GMT+3)
The theme of the season is Learning to Speak
6 October (Fri) — 1 pm — King's Speech (2010)
20 October (Fri) — 1 pm — Women Talking (2022)
3 November (Fri) — 1 pm — My Fair Lady (1964)
17 November (Fri) — 1 pm — Arrival (2016)
TTT 'Let's Talk Business' Club
Welcome to LTB Club! Here we discuss business topics related to working with corporate clients or starting your own business.Join us and meet enthusiasts and business savvy professionals, get insights and share your ideas.
We usually meet twice every month on Saturdays (GMT+3)

11 November (Sat) — 11:30 am
---
Learn more about the SIGs' leaders

I'm Kate Surkova, a teacher, and a learner. I'm sure that these two things go hand in hand. I teach both English and French, as well as help those who love learning languages independently. I do believe that effective learning requires a friendly and safe environment. Being the head of our Methodology SIG, I'm trying to turn reading books on teaching into pleasure and fun. I'm also keen on psychology, LARP, music, and history.

Nataliya Ivleva is an English teacher (CAE, CPE, CELTA) and linguist who, alongside teaching the language to adults, dedicates a lot of her time to popularizing linguistic knowledge. She is interested in how human language works and how our brain processes it. She also explores the etymology of the English lexis by tracking down its roots and sometimes surprising connections with Russian or other languages.

I'm Elena Tsifarkina, year 3 participant of TTT.Apart from being a teacher, I'm a qualified journalist with the degree of Moscow State Linguistic University. And, of course, I'm an avid reader, devoted listener and a bit of a chatterbox. I invite you to join the book sig to be able to talk about literature with like-minded people.

An English teacher who used to dream about a career of a film critic (and had her own program on a local radio station for some time), then left it all for teaching, and now can happily do both in TTT Film.

TTT 'Let's Talk Business' Club

Business coach, 'B1 Academy of Business' (EY)

<!— НАЧАЛО СКРИПТА ВСТАВКИ МЕТОК UTM В ДОП. ПОЛЯ ЗАКАЗА —> <!— КОНЕЦ СКРИПТА ВСТАВКИ МЕТОК UTM В ДОП. ПОЛЯ ЗАКАЗА —>